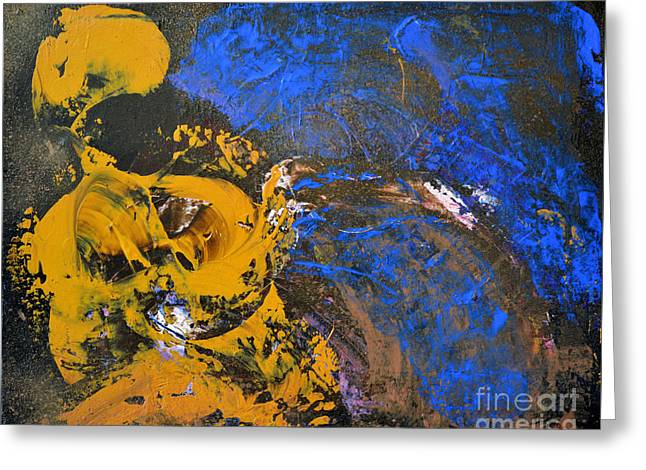 Master - Greeting Card #1038
The golden yellow and blue swirls in this painting express all those reoccurring thoughts you have in your mind on a daily basis. Dark blue, besides its calming effects, has also been associated with pessimistic, unforgiving, and repressed feelings. Blue also represents stubbornness and an unwillingness to change, which can be associated with the habit of bashing yourself all the time and constantly feeding your mind with negative, toxic thoughts. Words are very powerful, so choose them wisely. Become aware of the way you talk to yourself. It has a big influence on the way you are and behave. Words are the nutrients to your mind and your mind needs good nutrition. This is where this warm, optimistic golden yellow comes in. It is a generous, giving, and compassionate color, which has positive qualities and enhances our self-worth.
Rewire your thoughts and recognize the ones that don't serve you anymore and replace them with positive ones that do. Make peace and let go of the things you cannot control and focus on who you choose to be. Surround yourself with things that evoke a positive feeling in you. You can do it, because you are your own master in your life.
Our greeting cards are 5" x 7" in size and are produced on digital offset printers using 100 lb. paper stock. Each card is coated with a UV protectant on the outside surface which produces a semi-gloss finish. The inside of each card has a matte white finish. Each card comes with a white envelope for mailing or gift giving.